Monday, July 13, 2015
Hello! Thank you for visiting the Densho blog. We've migrated to a new location and hope you'll visit us there:
Wednesday, July 8, 2015
School is out for the summer, but that doesn't mean the learning has to stop.
Jan Kamiya
, a young adult librarian in the Hawaii State Public Library System and regular contributor to the
Densho Encyclopedia
, recommends eight essential books about Japanese American WWII incarceration that will keep the young readers in your life engaged in learning beyond the classroom.

Picture Books


Flowers from Mariko
By
Rick Noguchi and
Deneen Jenks
Illustrations by Michelle Reiko Kumata
Ages 5 and up
World War II is over and Mariko and her family are finally allowed to leave the camp. But the transition back into society isn't easy. Mariko's father longs to restart his gardening business, but his truck has been stolen. The family moves to a trailer park, where Mariko sees her parents are worried and their spirits are low. She has an idea to create happiness for her family by bringing gardening back into their lives.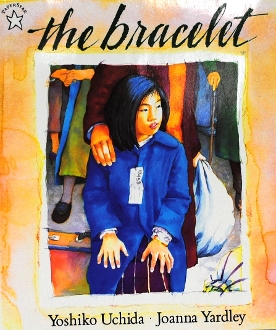 The Bracelet
By
Yoshiko Uchida
Age range: 4-8 years
The year is 1942 and America is at war with Japan. All Japanese-Americans are being sent to live in internment camps for the duration of the war, including seven-year-old Emi and her family. Before they go, Emi's friend, Laurie, gives her a gold heart bracelet to remember their friendship. But upon her arrival at the camp, Emi discovers she has lost the bracelet. How will she remember her friend now?
Juvenile Fiction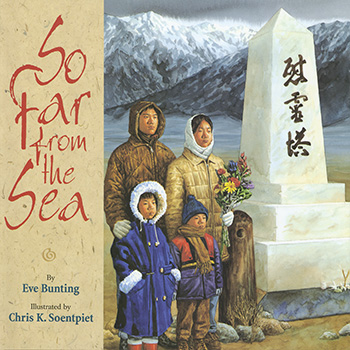 So Far From the Sea
By Eve Bunting
Illustrations by Chris K. Soentpiet
Age range: 10-12 years
Laura Iwasaki and her family are paying what may be their last visit to Laura's grandfather's grave. The grave is at
Manzanar
, where thousands of Americans of Japanese heritage were interned during World War II. Among those rounded up and taken to the internment camp were Laura's father, then a small boy, and his parents. Now Laura says goodbye to Grandfather in her own special way, with a gesture that crosses generational lines and bears witness to the patriotism that survived a shameful episode in America's history.
Weedflower
By Cynthia Kadohata
Age range: 10-14 years
When Pearl Harbor is attacked, the lives of a Japanese American girl and her family are thrown into chaos. Sumiko, 12, and her younger brother, Tak-Tak, live with their aunt and uncle, grandfather Jiichan, and adult cousins on a flower farm in Southern California. In the difficult days that follow the bombing, the family members fear for their safety and destroy many of their belongings. When they're moved to the Arizona desert, Sumiko misses the routine of her old life and struggles with despair. New friends help; she grows a garden with her neighbor and develops a tender relationship with a Mohave boy. She learns from him that the camp is on land taken from the Mohave reservation and finds that the tribe's plight parallels that of the incarcerated Japanese Americans. Kadohata brings into play some complex issues, but they realistically dovetail with Sumiko's growth from child to young woman.
Baseball Saved Us
By Ken Mochizuki
Illustrations by Dom Lee
Age range: 6-11 years
Shorty and his family, along with thousands of Japanese Americans, are sent to an internment camp after the attack on Pearl Harbor. Fighting the heat and dust of the desert, Shorty and his father decide to build a baseball diamond and form a league in order to boost the spirits of the internees. Shorty quickly learns that he is playing not only to win, but to gain dignity and self-respect as well.
Journey to Topaz: A Story of the Japanese American Incarceration
By Yoshiko Uchida
Illustrations by Donald Carrick
Ages 9 and up
Based on Yoshiko Uchida's personal experiences, this is the moving story of one girl's struggle to remain brave during the Japanese internment of World War II. In a bleak and dusty prison camp, eleven-year-old Yuki and her family experience both true friendship and heart-wrenching tragedy.
Journey to Topaz
explores the consequences of prejudice and the capacities of the human spirit. First published in 1971, this book is now a much loved and widely read classic.

Young Adult Fiction


Thin Wood Walls
By David Patneaude
Age range: 10-14 years
Eleven-year-old Joe Hanada likes playing basketball with his best friend, Ray, writing plays and stories, and thinking about the upcoming Christmas holiday. But his world falls apart when Japanese planes bomb Pearl Harbor. His country goes to war. The FBI takes his father away. And neighbors and friends in his hometown near Seattle begin to suspect Joe, his family, and all Japanese Americans of spying for the enemy. When the government orders people of Japanese heritage living on the West Coast to move to internment camps, including Joe and his family, Joe turns to the journal his father gave him to record his thoughts and feelings.
Take What You Can Carry
By Kevin C. Pyle
Age range: 12-18 years
In 1977 suburban Chicago, Kyle runs wild with his friends and learns to shoplift from the local convenience store. In 1941 Berkeley, the Himitsu family is forced to leave their home for a Japanese-American internment camp, and their teenage son must decide how to deal with his new life. But though these boys are growing up in wildly different places and times, their lives intersect in more ways than one, as they discover compassion, learn loyalty, and find renewal in the most surprising of places.
--
Looking for more ways to teach young people about Japanese American incarceration? Check out our
free online course for educators
.
Monday, July 6, 2015
Densho is seeking two to three interns to support our Digitizing Photos for Japanese American Oral Histories Project through the following activities: corresponding with narrators and their families to identify and collect materials, digitizing the materials (newspapers, photographs, documents, etc.), editing and performing quality control on digital images, transcribing documents, cataloging, data management in digital repository software, and other duties as needed.

The internships run from September 2015 through December 2015 or January 2016. Interns will be paid $12 per hour, no benefits.

Current students or recent graduates from library and information science or archival studies programs preferred. The ideal candidates are self-directed, detail-oriented, and comfortable with technology. Knowledge of Japanese American history is welcome but not required. The internships are funded by an award from 4Culture.
Apply
To apply for the position, please send your resume and cover letter to
[email protected]
by
August 12, 2015
. All applications will be held in confidence. All submissions and questions should be sent via email—no phone inquiries please.
About Densho
Densho
is a Seattle-based non-profit organization started in 1996, with the initial goal of documenting oral histories from Japanese Americans who were incarcerated during World War II. This evolved into a mission to educate, preserve, collaborate and inspire action for equity. Densho uses digital technology to preserve and make accessible primary source materials on the World War II incarceration of Japanese Americans. We present these materials and related resources for their historic value and as a means of exploring issues of democracy, intolerance, wartime hysteria, civil rights and the responsibilities of citizenship in our increasingly global society.